I would just like to say 'hello' to all my wonderful clients, old and new. I hope this finds you all safe and well.
I am sure we have all had different experiences throughout 'the lockdown.' The rollercoaster of emotions and feelings we have all gone through have hopefully allowed us to think about what is important to us…family, friends, self-care, peace, nature, community, health…the list goes on.
I hope you have managed to find time to 'reconnect.'
What have you been up to? Have you learnt a new skill? Have you completed long overdue tasks? Have you finished reading a book that you have wanted to read for a long time? There is always something positive to come out of an adverse situation. Have you found joy in the smallest things?
I hope that is the case for you all out there. But I am sure that there have been moments of confusion and despair. Times when you have felt confused, sad, worried, scared or frustrated! I know I have especially at the start of this. The thought of going to the supermarket at the beginning of lockdown was indeed a scary thought!
All of the emotions we feel are a natural way of responding to this situation.
Some things I feel have achieved over the last 9 weeks are:
Decorating – our porch, dining room and spare bedroom are now finished!
Crochet – a really colourful throw and 2 cushion covers completed!
Aiding community – sewing headbands and caps for key workers and shopping for vulnerable!
Charity- making 'blue heart brooches' to raise money for the NHS charities!
Exercise – yoga and our daily walk with Farley the dog!
Technology – teaching my mother to video call, learning more about social networking!
Learning – online courses and training!
I have also connected and reconnected with family and friends and had 'time'
of quiet. This has been the longest time that I have gone without being able to do any physical hands on therapy!
Massaging the dog is just not the same!
My partner has not complained though as he has had more reflexology treatments than usual.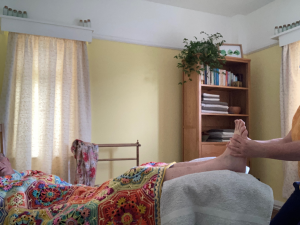 I am now trying to focus on the time when we can all reconnect, whenever that may be.
My governing body, the FHT, have started to put together a plan to allow therapists to return to practice as safely as possible as soon as we are able.
Training will be given in safe practice and there may be a slight change in the way things are done but you can be ensured that I will not be returning to practice until everything is in place for a safe and nurturing treatment.
I am following the progress of Reflexologists in other European countries that have now returned to their clinic spaces and seeing how they are coping with the changes. I am pleased to say that they are coping extremely well and they say that their clients are not finding the changes detrimental to the outcome of their treatment, which for me was a concern.
What the definite changes are going to be is still uncertain, as is the date of my return but you can be sure that I am so looking forward to seeing all your faces (and feet) once more.
If you would like to get in touch before I can reopen then please do not hesitate.
This could be for a general chitchat or for more holistic advice / tips.
Some things we could cover:
Breathing exercises – can help with anxiety and aid sleep.
Hand Reflexology for specific conditions i.e. headaches, pain or just for relaxation.
Gentle stretches for aches and pains and ways to keep busy.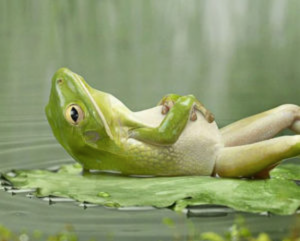 We could do a phone or video call for any reason whatsoever, even if you would just like to hear a different voice.
Don't forget there is still the option of purchasing vouchers for gifts or for you to use when we return to help spread the cost.
Stay safe.
See you soon
Best wishes
Jan Carthew