Reflexology for peri/menopause
by Melanie Allcott, Reflexologist specialising in women's health
⁠
Menopause is not an illness, it's a natural stage of life that affects 50% of the population! It doesn't have to be feared, or a negative experience, or something to be ashamed of. I firmly believe that the better we look after ourselves during this stage of life, the better our experience will be, and the more powerful and liberated we'll feel! 
I treat women before, at, and after menopause, and reflexology can be really beneficial to your wellbeing.
Research* carried out at the UK School of Complementary Health in Exeter showed that reflexology and foot massage decreased anxiety, depression, insomnia, hot flushes and night sweats among menopausal women. 
⁠
Reflexology can help in so many ways, but here are some key reasons to have treatments during peri/menopause:
⁠
Reflexology works by restoring balance to your whole body, including your endocrine (hormone) system. 

Reflexology calms the central nervous system. Reducing stress – without a doubt – improves peri/menopause symptoms.⁠

Reflexology is a brilliant sleep promoter, and can really help combat peri/menopausal sleep disturbances.⁠

Reflexology gives you time out to nurture and prioritise YOU, which is absolutely essential to your wellbeing at this stage in your life!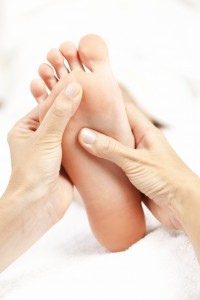 If you'd like to b
ook a reflexology treatment, find out more about how it might help you, or are interested in resources on the menopause, please do contact me on 07495 977447 / melanie@rebalance.life, or by visiting www.rebalance.life.
⁠
* Randomised controlled trial of reflexology for menopausal symptoms, BJOG; Jan Williamson, Adrian White, Anna Hart, Edzard Ernst; 2002 Sep;109(9):1050-5. ⁠